Accept Payments In Cryptocurrency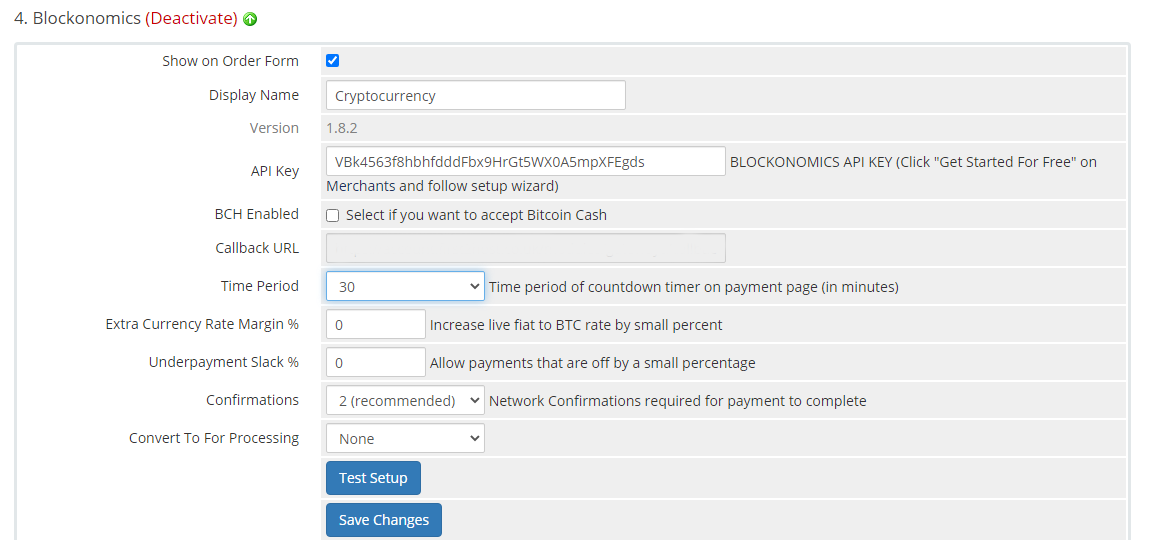 Bitcoin Payments
The Bitcoin Payments module by Blockonomics allows you to offer Bitcoin and ALTcoins as a payment for your services sold when using WHMCS. This module is a simple and cheap alternative to other Bitcoin modules that tend to charge larger fees and, in the case of Coingate, make you supply identity information. Setup of this module takes under 5 minutes and because you use your own wallet there is no waiting for funds to be transferred to you.
Module Setup
The module allows some configuration options but like enabling ALTcoins and BCH payments. You can also set how long the payment address should be valid. This is a downside to the module because the maximum time an address can be active is 30 minutes. When the bitcoin network is busy transactions tend to take longer, sometimes hours or days.
Direct To Wallet
The module works by sending customer payments direct to your wallet and this is achieved by binding Bitcoin addresses to your wallet. Not all providers allow you to do this. We used blockchain and the setup of this feature was simple. Blockonomics monitor the payments that go to your wallet that allows them to work out how much to charge you.
Transaction Fees
Blockonomics charges only 1% per transaction so if your payment is £100 the fee for this would only be £1. This makes the module cheaper than services like PayPal and Stripe and even other bitcoin modules like Coingate.
---
Share
Module Price
The WHMCS Bitcoin payments module is free to download. The Blockonomics Bitcoin WHMCS module is a cheap way to accept Bitcoin and ALTcoin payments direct to your own wallet with no need to provide business documentation. Start accepting Cryptocurrency with ease with this WHMCS module.
Module Details
.